Combine Soccer and studies!
The sporting success of a child is often a surprise for the parent. Initially it's a game, then, little by little, the young stand out from his peers. We want to support him in his success, but we do not want to neglect his studies. It is in this spirit that creating a constant work ethic by reconciling education and sport will ensure a better quality of life for young people and their parents. One thing is certain, in all cases, the sport will have transmitted them positive and important values. I think of healthy habits, discipline or the sense of effort. Come meet us, we will help him develop his full potential.
Sportily
Gennaro Angelillo
Program Coordinator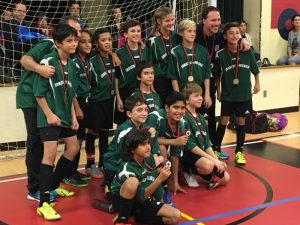 PROGRAM PRICE
$ 2200 / transport not included / including:
Training uniforms
Tracksuit
Raincoat
Sports Therapist
Quality Coach
Goalkeeper specific training
Friendly matches
Training board rental
Training 5 days / week
To be admitted to the soccer concentration, every student has to shine, both at school level and as a sportsman.
Have results of 70% and more in all subjects.
Have exemplary behavior at school.
Demonstrate autonomy and motivation in school learning.
Want to achieve a good level of athletic performance.
This soccer concentration component will also be offered to students who simply want to be physically active or have challenges. Come join us in this brand new multi-dimensional soccer program that will increase individual knowledge. This will boost self-confidence and build a better student-athlete at the academic and athletic levels. The student enrolled in the soccer concentration will receive the same services as other student athletes at the school.
OUR OBJECTIVE
Create a positive work environment
Create a constant work ethic
Create a competitive mindset
Transmit positive values
Become independent
Importance of time management
Engagement in school and soccer
PROGRAM COORDINATOR
Gennaro Angelillo
GASS Soccer School
Tel: 514 606-5721
Mail:dt@asib.ca